How do you shelf up to the competition?
No-cost CommerceIQ Category Leadership dashboard helps you assess and improve performance
Instantly know where you stand and how to improve – at no cost. Gone are the days of limited performance visibility at a category level, of hobbling together disparate excel reports, and spending hours attempting to distill data into usable insights.
The CommerceIQ Category Leaderboard is an instant analysis of where your business stands against top competitors at a category-level. In a single scroll, you'll get an aggregate analysis of data with the most important conclusions and tactical actions your team should take to drive brand growth, increase profitability, and improve market share.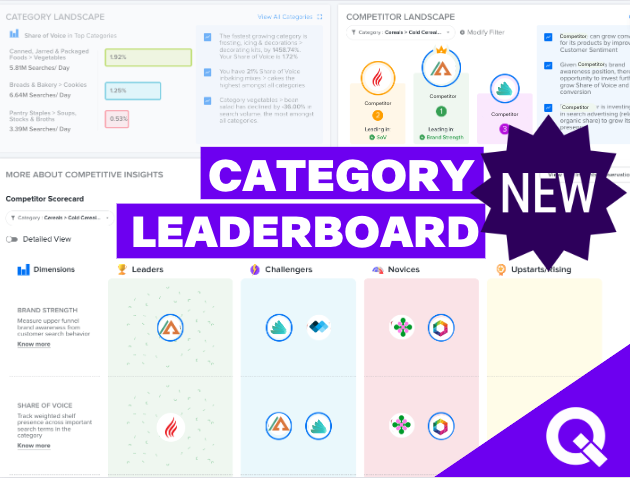 Request access link to the CommerceIQ Category Leaderboard for your 360-degree view:
Category Landscape - Quickly assess your share of voice and growth potential across top categories
Competitor Landscape - Instantly identify the top three competitors by category and their areas of strength
Competitive Scorecard - Compare competitor performance and pinpoint opportunities across most critical business dimensions, including brand strength, share of voice, price leadership, content health, assortment strength, and customer sentiment
Competitive Insights - Deepen your understanding with a detailed analysis of each business dimension
Key Observations and Insights - Summarized takeaways prioritize the actions and insight you need to win
No cost, no credit card and no subscription required. Request your access link now!