What's

Your

Commerce IQ

? Use our new scorecard to measure your brand's e-commerce readiness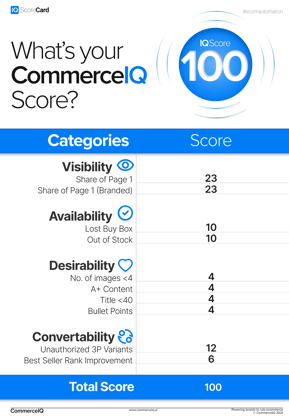 Increase market share, improve profits and drive incremental sales leveraging this complimentary scorecard. All you have to do is fill out the form.
Understand your brand's visibility, availability, desirability, and convertibility by benchmarking your brand across all your competitors in your category. These metrics are a result of researching and leveraging multiple years of e-commerce data and working with some of the world's largest brands and the brightest minds in e-commerce.
This scorecard will specifically measure your online brand presence, out of stocks, unavailability, 3P variants, Lost Buy Box, best seller rank, and content effectiveness for your most important ASINs. Your performance in these areas is calibrated to your category so your score will provide the most relevant benchmarks for your business.
See where you stack up vs. your competitors in your category
Fix blind spots you didn't even know you had
Benchmark your progress over time as you close out the year
Get your FREE scorecard today!